A leading Investment Bank dedicated to supporting ambitious UK growth companies and their investors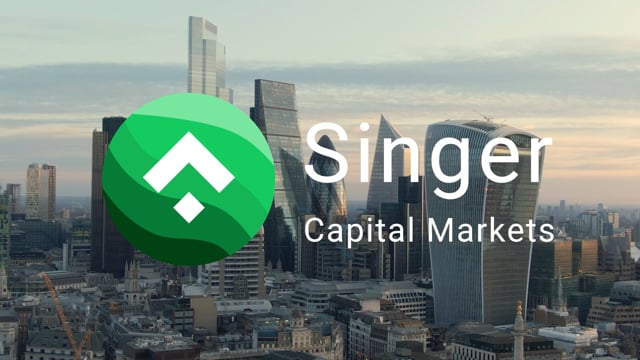 Welcome to Singer Capital Markets
Singer Capital Markets is a leading investment bank dedicated to supporting ambitious UK growth companies and their investors. We have specialist capabilities, deep experience, and a proven track record of client success in the UK small & mid cap market.
Our latest news and insights
Aurrigo plc: £20 million AIM IPO
Singer Capital Markets is pleased to have acted as Nominated Adviser & Sole Broker to Aurrigo plc ('AURR') on their £20 million AIM IPO. Aurrigo plc, a leading international provider of technology solutions, today (15/09/2022) admitted its entire issued share capital, being 41,666,667 Ordinary Shares, at a Placing Price of 48 pence per share, to trading on the AIM market of the London Stock Exchange, raising £8 million on admission.
Read Article
Jamie Constable's Monthly Macro Update – September 2022
In the latest episode, Jamie and Paul's discussion ranges over macro developments over the past month and their micro impacts, in particular in the US and UK. They also interrogate US and UK inflation, Quantitative Tightening and the path for interest rates.
Read Article
Singer Capital Markets appointed as Nominated Adviser & Broker to GRC International Group plc
Singer Capital Markets is delighted to have been appointed as Nominated Adviser and Joint Broker to GRC International Group plc with immediate effect.
Read Article
£8 million Raised
IPO
£52.9 million Raised
Initial Placing, Open Offer, Initial Offer for Subscription and Initial Intermediaries Offer
£5.5 million Raised
Placing
"Singer Capital Markets executed our transaction with expertise; they shaped our presentation and message, introduced us to over 50 relevant Institutions and raised the equity needed within an agreed valuation range and timescale. They are a very professional organisation."

Sandy Adam

Chairman of Springfield Properties plc
"The team have demonstrated an exceptionally pro-active approach to promoting our Company and have led the way in broadening our shareholder base, trading our shares and improving liquidity. We have also been very impressed by their advisory capabilities which are well complimented by a strong distribution and trading function, and their professionalism. They are a stand-out firm."

Finance Director

Liontrust Asset Management
"We are thrilled with everything that Singer Capital Markets have done. It has been discussed at the Board that appointing Singer was one of the best strategic decisions we've made in the last year."

Chief Financial Officer

Reach plc
"You have been sensational since day one and we can't thank you enough for your efforts. Singer Capital Markets have been a major part of our success."

Merck Mercuriadis

Founder of Hipgnosis Songs Fund Ltd.
"In Singers I have only ever met good people and I truly do believe you and your team have true purpose in a great company."

Mark Payton

Chief Executive Officer of Mercia Asset Management