Proudly supporting Chelsea FC Women as their first ever and only exclusive partner
Singer Capital Markets is delighted to announce its official partnership of Chelsea FC Women – one of the world's most impressive and successful groups of sportswomen.
Our three-year partnership as Chelsea FC Women's first ever shorts partner and the only exclusive partner of the women's team is a signal of our commitment to championing the success of this impressive team, who are currently Barclays FA Women's Super League 2021/2022, and FA Community Shield 2021/2022 winners.
As clear winners on the pitch and innovators off it, the qualities Chelsea FC Women display align with many of Singer Capital Markets' own values and beliefs, and so we are incredibly proud to be able to support their continued ambitions over the next few years.
Our latest Chelsea FCW updates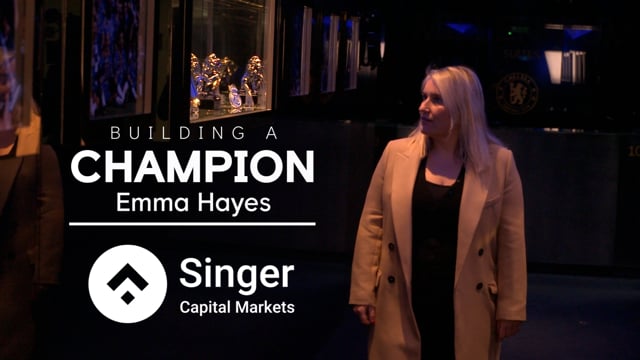 "The most important thing for me is maintaining consistency in performance."
As part of our new "Building a Champion" series in partnership with Chelsea FC Women, Emma Hayes, Manager of Chelsea FC Women, describes what it takes to become a champion, the sacrifices made and what she believes is the key to success.
All episodes with players including Millie Bright, Magdalena Eriksson, Lauren James, Jessie Flemming and ex Chelsea FCW player, Katie Chapman, can be viewed by following the link below.
#ChangingtheGame
FA Women's Super League 2021/22:
The Most Watched Season to date
2.8 million
Cumulative Chelsea TV Audience 21/22 (+740% YoY)
3.3 million
Instagram following larger than 13 Premier League men's teams
8.4 million
Combined squad social following (+80.7% YoY)
To keep updated with all Singer Capital Markets and Chelsea FC Women news, follow us on social media:
@ChelseaFCW and @_singercm